Ready Seal Stain Review
Looks good initially
Penetrated the wood easily
One of the more inexpensive stains (Under $35)
No lap marks
Manufacturer Description: ReadySeal wood stain and sealer contains all the essential elements of a quality coating for exterior wood projects. Ease of application was in mind throughout the formulation of ReadySeal to ensure all consumers a hassle-free application, saving time for the contractor and promising a Goof-Proof process for homeowners.
Ready Seal Stain Review
Stain looked good after initial application. Ready Seal has good penetration and applies easily. The product has a very strong odor, would not recommend if the user is sensitive to smells. After 14 months of weathering the product has completely weathered away. The test board has darkened significantly and small black spots of what appear to be mold have shown up. Bottom line: although this was one of the cheaper stains on the market, unless you want to redo your deck every year, stay away from Ready Seal.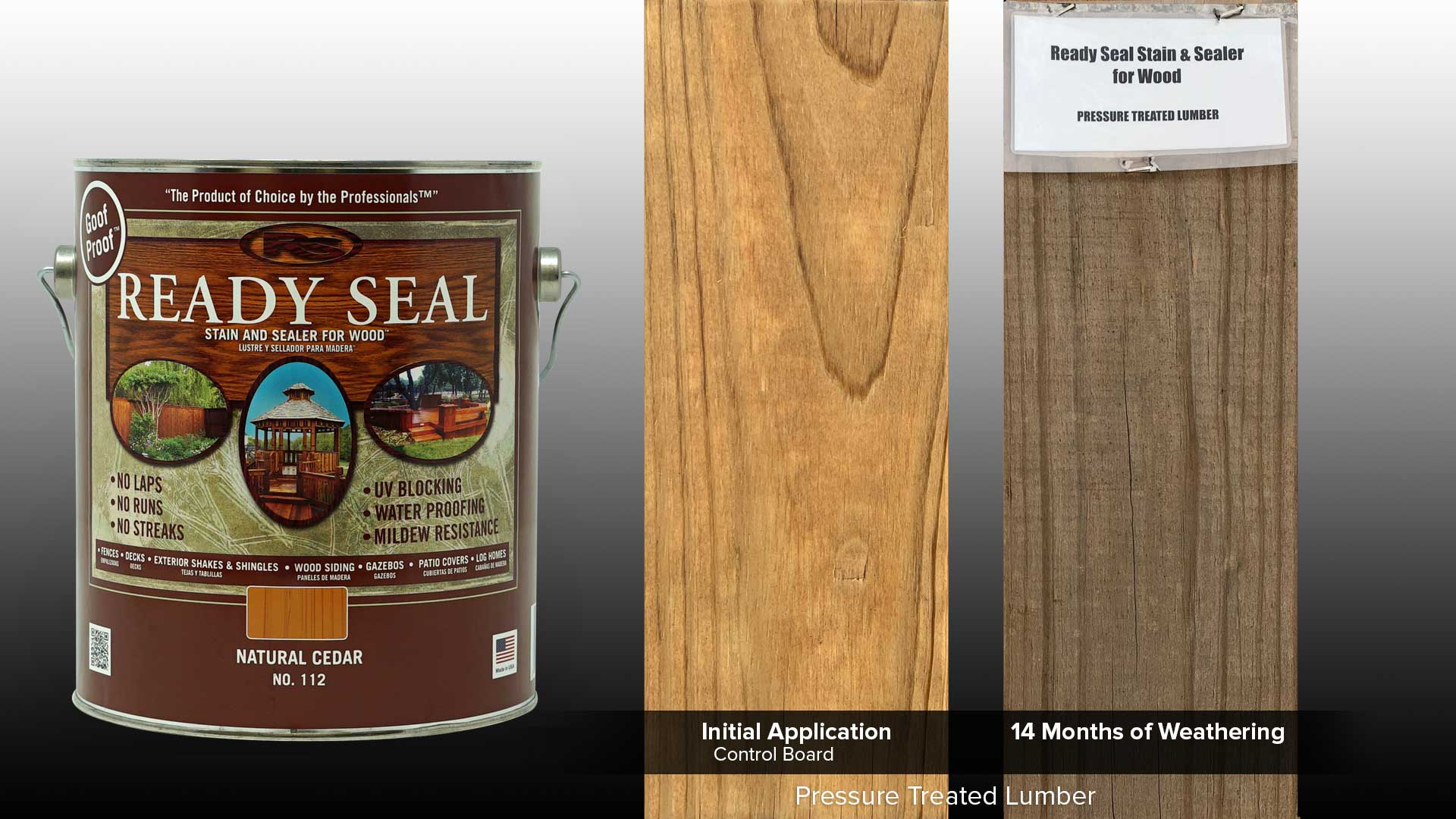 Ease of Application (Difficult = 0, Easy = 10)
8
Penetration (Didn't Penetrate = 0, Excellent = 10)
8
Odor (Strong Odor=0, No Odor=10)
3
Initial Appearance (Terrible = 0, Great = 10)
8
Resistance to Graying 1 Year (Gray = 0, No Graying = 10)
1
Resistance to Peeling (Peeled = 0, No Peeling = 10)
8
Resistance to Mold (Mold = 0, No mold = 10)
2
Resistance to Darkening (Dark=0, No Darkening=10)
1
Ease of Cleanup (Hard = 0, Easy = 10)
3
Eco-Friendy (Not at all = 0, Very Friendly = 10)
2
Ease of Application (Difficult = 0
7
Penetration (Didn't Penetrate = 0
6.6
Initial Appearance (Terrible = 0
6.1
Resistance to Graying 1 Year (Gray = 0
7
PROS
Looks good initially
Penetrated the wood easily
One of the more inexpensive stains (Under $35)
No lap marks
CONS
Doesn't last more than a year
Strong odor
Mold growth present
Boards turned very dark
Add your review
|
Read reviews and comments